Article By CCRVC Supplier Member Furever Clean Dog Wash
The Covid pandemic has seen a dramatic increase in dog ownership. Today more than 40% of Canadian households own one or more dogs and are spending more than 8 billion a year in pet amenities, particularly dog grooming services.
RV Parks and campgrounds are popular choices for dog owners. The trend towards having all campgrounds become pet friendly means that parks are having to quickly add services for dogs to keep up with competitors.
Many RV Parks and Campgrounds offer vending machines and small shops to supplement their income, but few offer amenities for dogs that generate revenue. While offering an off-leash area is a great feature, keeping dogs clean while having fun outdoors, remains the number one challenge for pet owners.
Providing a pet wash area for your guests to bathe their dogs is a valuable pet grooming service. It eliminates dirty dog frustrations and can even generate income for your campground.
Why Offer a Dog Wash Station at your Campground?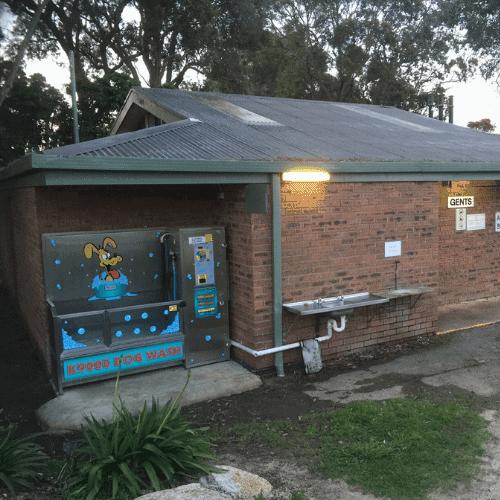 A dog wash station is a great pet perk! Here are some reasons why offering our dog wash is a big benefit for you and your guests:
Our pet washes are self-serve so guests can use at their convenience any time of day
The machines can run independently without constant staff oversight
Wash products and blow dryer are conveniently built in
Comes with a disinfect cycle for guests to sanitize the tub after each use
How can you profit from adding a Dog Wash?
A Furever Clean Dog Wash is an excellent revenue generating opportunity. There are a number of ways you can profit from adding a dog wash machine:
Expand your reputation as a pet friendly park
Provide a valuable amenity that many of your competitors do not
Offer free dog washes to your guests as an incentive to book longer stays
Configure the dog wash to provide paid washes. You can either sell dog wash tokens at your office/store or have a payment device such as debit and credit reader added. Our machines are configurable so you can decide how much you want to charge.
Increase your profits even more with one of our pet vending machines so your guests can purchase treats and other products for their dogs
Operate your machine year-round and benefit from a constant stream of revenue!
Thinking About Adding A Dog Wash to your Campground?
2021 will be a record year for camping as people look to escape Covid fatigue. Here's why our Furever Clean dog wash stations are the perfect amenity for your campground:
VARIETY OF SIZES: We have a number of dog bathing models to choose from that can be operated outdoors under a simple shelter in the Summer and winterized during the Winter, or operated indoors year-round
FEW REQUIREMENTS: All you need is water, power and a drain
CUSTOMIZABLE: We offer custom made decals for your machine with your brand name
FLEXIBLE PAYMENT OPTIONS: Purchase outright or lease to own and lessen impact to your cash flow. Pay off your machine quickly with only 4 dog washes a day!
EASY REVENUE! A dog wash is a great marketing tool that provides lots of options to attract guests and make extra money!
 Contact us and learn more about our different dog wash options and add a self-serve dog wash to your campground this summer: https://fureverclean.ca/