The Canadian Camping and RV Council's inaugural Canadian Outdoor Hospitality Conference and Expo took place virtually January 18-21, 2021 and saw over 330 attendees from Canada and the US, dozens of vendors and sponsors, and contributions from speakers across North America covering a wide variety of topics specific to tourism, campground operations, and strategies for 2021 and beyond.
The keynote session, delivered by Kampgrounds of America's President and CEO, Toby O'Rourke, was extremely well-received by all attendees and presented data showcasing the Camping and RV Industry and its bright future. Touching on the success in 2020, as well as providing analytics on the changing market demographics and consumer-driven business elements, the keynote session set the stage perfectly for attendees "thirsty" for a learning and educational experience.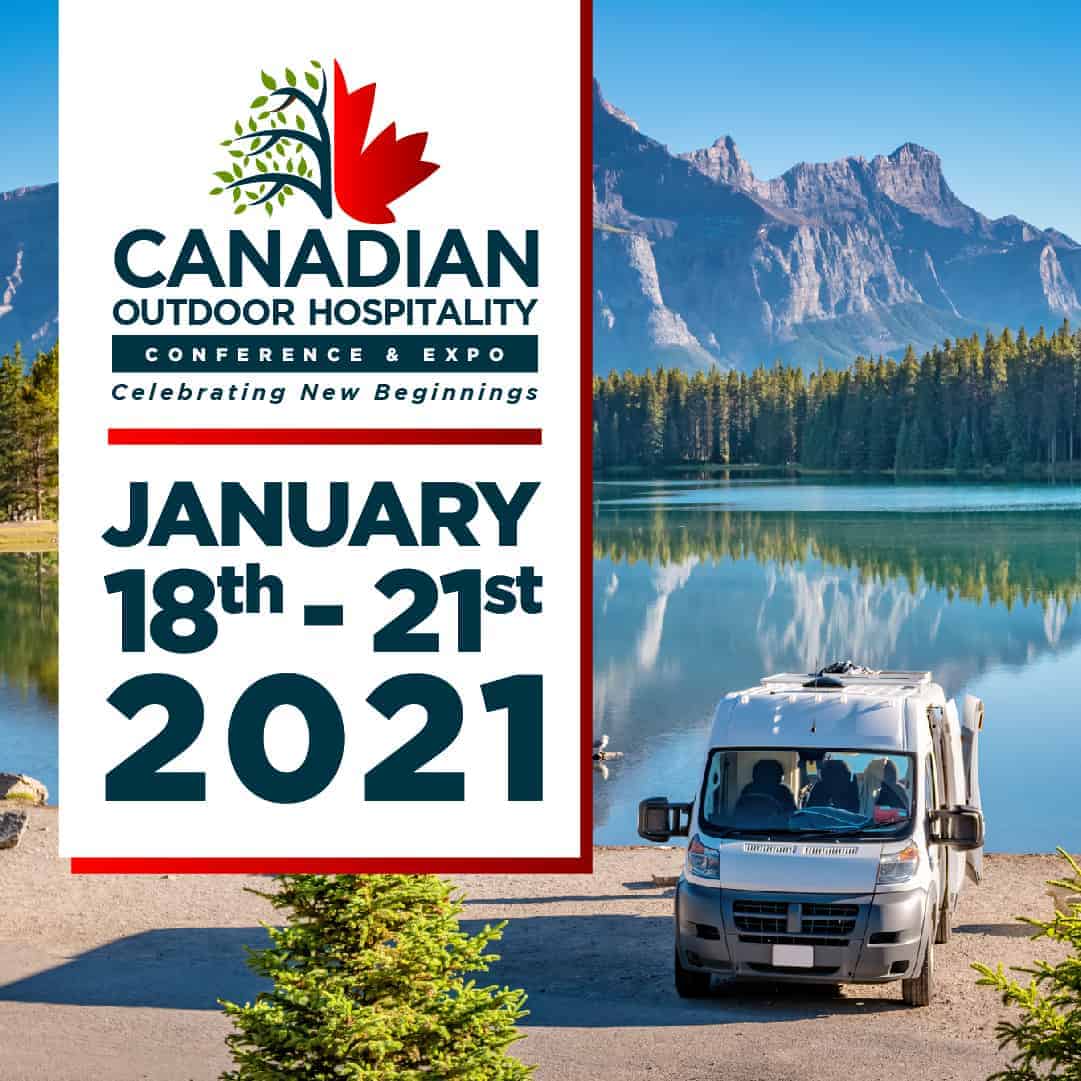 Over the four days the conference delivered over 45 sessions on various topics across four education tracks, ranging from "How to Have a 5-Star Bathhouse" to "Developing a New Park", "Best Hiring Practices", "Working with Influencers", "Basic Campground Accounting", and many more. The magnitude of the content provided has given attendees access to a wealth of resources, and recordings of all of the sessions have been made available for 30 days after the event.
Increasing connection amongst attendees was one of the primary goals of this virtual event, and this strategy included workshops, where attendees could gather and discuss focused topics in a group setting. These facilitated incredibly productive peer-based conversations that provided perspectives across a broad range of business types and regions.
In addition, "speed-dating" networking sessions offered a unique avenue for attendees and exhibitors to randomly match and chat for 3-minutes before being randomly matched with someone else. This was a great way to connect with vendors and hear about their products and services.
"It was such a great experience working with both Shane and Cara to create a unique virtual experience," said Heather Blankenship, Co-Founder of CampCon. "To see such a positive response from both owners and vendors was the best outcome we could have expected."
Feedback from attendees has been overwhelmingly positive, with support for a 2022 event being echoed on both sides of the border. The generous contributions of our sponsors and exhibitors were invaluable to the launch and success of this virtual event, as well as to the longevity of the Canadian Camping and RV Council as it continues to deliver member benefits across Canada.
Attendees celebrated during the conference's final night celebration as CCRVC announced a number of Awards:
Award winners are listed below:
· Canadian Supplier of the Year: Campgroundbooking.com
· Canadian Rising Star Award: Leanne Sallenback, South Point Resort
· Canadian Large Campground of the Year: Marco Polo Land
· Canadian Small Campground of the Year: Surf Grove Campground
· Camping and RV Industry Person of the Year: Jim Humphrey, Beaver Lake Resort
-30-
About CCRVC
The Canadian Camping and RV Council is comprised of the Provincial Campground Owners Associations, the Canadian RV Association and the RVDA of Canada to provide for the betterment and support of Private Campgrounds and the Camping and RV Industry in Canada. The Association also serves as the national advocacy voice of Private Campgrounds.
Media Contact:
Cara Braeutigam cara@campincanada.ca